Sweetbridge SweetMeet: Cryptocurrency Transforming Institutions and Governance
March 5, 2018 @ 7:00 pm

-

10:00 pm

UTC-5

Free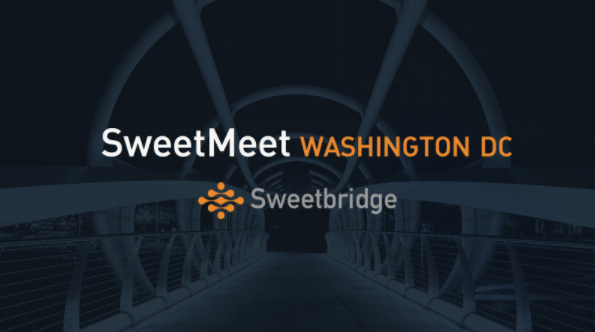 Sweetbridge is building a blockchain-based meta economy with the goal of making the impossible possible, and our SweetMeets are a global series of events introducing individuals and enterprises to our ecosystem.
We'll be in Washington the week of the DC Blockchain Summit to discuss our dual-cryptocurrency ecosystem – which features both a fiat-pegged stablecoin and an innovative discount token – and the transformative effects it can have on existing systems and institutions.
We believe that the responsible deployment of cryptocurrencies through the use of proper token economics, licensing and AML/KYC compliance standards can create a new economy and new business models that are more inclusive, efficient, and fruitful for everyone.
Our CEO Scott Nelson brings more than three decades of experience at the apex of supply chains, technology and high finance. Over a 22 year period, Nelson built his previous company, Trax Technologies, from a niche startup in the early 1990s to running supply chain settlement and auditing operations for more than 50 Fortune 200 companies – generating more than $20 million in annual recurring revenue in the process.
A visionary and business model innovator in the $54 trillion global supply chain industry, Nelson has been eyeing the transformative implications of blockchain technologies for commerce since well before the 2017 hype cycle. Since forming Sweetbridge, currently one of the largest blockchain projects in the world, he has been featured on CNBC, Bloomberg and at major events discussing about his vision of bringing global commerce onto the blockchain.
Additionally, Sweetbridge is proud to count a number of blockchain thought leaders, including Don Tapscott, co-author of The Blockchain Revolution, and Vinay Gupta, an early contributor of Ethereum, and numerous monetary policy and crypto-economics experts among its team of advisors. Come join us on March 5 for our launch of SweetMeet Washington and learn how you can become part of the Sweetbridge economy!
For more information, please find our whitepapers at www.sweetbridge.com.
Also, find a Smith & Crown review of the Sweetbridge project here: https://www.smithandcrown.com/sale/sweetbridge-cryptoasset-based-lending-pathway-supply-chain-transformation/